How to Solve the Hardest Dog Care Problem of All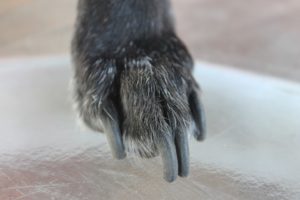 How to Clip Your Dog's Nails
Clipping your dog's nails could be a real nightmare.  It's a common problem for a lot of people regardless of the size of the dog; even small dogs can really put up a fuss when you attempt to clip their nails.
Sometimes even a big dog will  just panic every time he sees the clippers. Much of this is because the dogs have rule over the owners.
With one particularly large dog, Brownie,  we had issues with the dog panicking each time Mallory tried to clip her nails.  Because Mallory hadn't taught Brownie to respect her, Mallory felt she could overwhelm Mallory and not let her clip the nails.
I put a command collar and lead on Brownie and took her outside.  I worked with her not pulling on the leash, which asserted my authority over her.  I did this for about 10 minutes, until she got it.  Then I worked with down – stay for another 10 minutes, until Brownie KNEW I expected her to stay.
Once Brownie knew she could not get away with disobeying, I was able to put her in a down-stay and she stayed there.  I s
I kept the lead and collar on her in case she got nervous and attempted to get up.  Start to finish this process took about an hour.  And it works with any grooming procedure that is difficult, bathing, looking at teeth, etc..
TEACH YOUR DOG RESPECT, AND YOUR RELATIONSHIP WITH THE ANIMAL WILL IMPROVE IN EVERY WAY!  IT'S BETTER FOR BOTH OF YOU.