Two Women, Their Dogs Rescued After Five Months Lost at Sea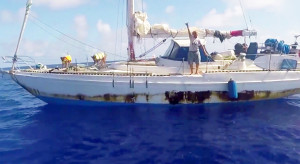 Some Good News For A Change!
Jennifer Appel and Tasha Fuiava set out with their dogs, Zeus and Valentine, on a 2,700-mile sailing journey from Hawaii to Tahiti when the weather got bad and they lost their engine in May. The duo and their constant companions were rescued 900 miles southeast of Japan by the U.S. Navy on Wednesday, October 25.
During their time on the waters, the pair and their "boys," as they call them, survived two separate shark attacks on their boat saying, "Both of them — we actually thought it was lights out. They were horrific. We were just incredibly lucky that our hull was strong enough to withstand the onslaught."
Read More: Two Women, Their Dogs Rescued After Five Months Lost at Sea